There are currently about 150 vendors in Sapporo, Sendai, Tokyo, Yokohama, Kawasaki, Chiba, Nagoya, Kyoto, Osaka, Kobe, Fukuoka, Kumamoto and Kagoshima. On average one vendor sells around 20 copies daily. A homeless person who signs a code of conduct and undergoes a training program receives a vendor ID card which he/she wears when selling the magazine.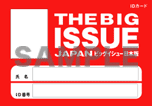 Vendors are not employed by The Big Issue. They are retailers, and as such, are responsible for their own tax, book keeping and timekeeping etc. This is in keeping with The Big Issue's ethos of self-help, and encourages vendors to learn new skills while earning an income.
Code of Conduct
As a vendor of The Big Issue Japan I agree to abide by the following rules, to NOT:
Sell anywhere but on an authorised pitch.
Sell without displaying my badge.
Use threatening or aggressive behaviour or offensive language at any time while acting as a Big Issue vendor.
Be under the influence of alcohol or controlled substances whilst buying or selling The Big Issue.
Obstruct the general public or cause an obstruction on the street.
Argue or fight over pitches with other vendors or those who earn a living from the streets e.g. Beggars, Buskers or Street Traders.
Beg or busk whilst wearing The Big Issue ID badge or holding The Big Issue magazine; nor sell in any way associated with begging, such as sitting or lying down or using a bowl for money.
Behave in any manner likely to bring The Big Issue and the Big Issue vendors into disrepute.
If you have any comments about vendor behaviour, please call our Sales Support Team:
Tel: 06-6344-2260
E-mail:
2-3-2-401 Dojima, Kita-ku Osaka 530-0003
We consider that self-support comes from a sense of 'pride' that an individual is able to sustain a living on his/her own. The following is our model of the three steps toward self-sustainability:
| | |
| --- | --- |
| Step 1) | Depart from homelessness by staying in hostels, or temporary lodging centers (approximately 1,000-2,000 yen per night), which is possible by selling 25-30 copies daily. |
| Step 2) | Rent an apartment and have an address (by selling 35-40 copies daily, biweekly publication, saving 1,000 yen daily and in 7-8 months, will have enough savings for key money' to rent an apartment). |
| Step 3) | By having his/her own address, the individual will be able to seek permanent employment. |
Many of our vendors have reached their second step and some have found jobs by achieving Step 3.